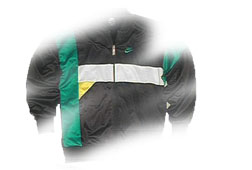 Stretch Yarns

The world today is moving to a fitness and fashion oriented. This has brought an entire evolution, in the way yarns and fabrics are made today.

Body fit yarns and stretch yarns facilitates snug as well as easy body movement. These yarns known as elasthane yarns like Lycra (www.dupont.com/lycra) and Dolstrone.

These yarns and fabrics make ideal sports and leisure wear as they wear well and are cool and comfortable as well.

These yarns are made in two different processes :-
Corespinning Method : In this method, the Elasthane Core is introduced in the Spinning Process. This is ideally suited for knitting yarns and in certain weaving applications.
Core Twisted Yarns : These yarns are suited for a broader spectrum of usuage from denim to socks and suitings to blouses. They are used as weft stretch and warp stretch.
These yarns are offered from our Joint Venture with Worldtex/Filix a world leader in elastic yarns and narrow elastic fabrics.

Worldtex has in its group Filix s.a (www.filix.fr) a premier stretch yarn manufacturer in France.



Click here for specification details.