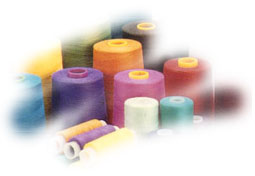 Sewing Threads

Our sewing threads are also known as Shakti Threads, made from 100% Super High Tenacity Polyester that even the toughest stitching applications can't beat. What makes them so strong is their uniformity in every dimension. Each and every centimetre of yarn spun is weighed by the microprocessor and if incorrect, automatically adjusted. State-of-the-art European Autolevelled Machines ensure millimeter to millimeter uniformity in length and strength!

Moreover, Shakti Threads was a pioneering event in India! It was the first in India to use knotless yarn for Sewing Thread(spliced yarn). The latest Automatic Schlafhorst Cone Winders equip our mills while our Autoconers are equipped with highly sensitive electronic yarn clearers, sensing and cutting away minute faults to improve stitching efficiency. Our Two-For-One Twisters(TFO) lend Valliappa a distinction of sorts. It is one of the very few in India to offer this kind of sophisticated twisting.

What can Valliappa do for you? Everything from dyeing and finishing of polyester threads to mercerizing, gassing and dyeing of cotton threads.

Value for money is our prime motive. As you will find, when you go through our price list. Click here for price list and here for specification details.

To place an order, all you have to do is refer to our shade chart, which gives you samples of the thread and corresponding code numbers. Just mention the shade card number. Or if the shade card doesn't have your particular shade, go to www.pantone.com, check out the colours available and send us the Pantone shade code.