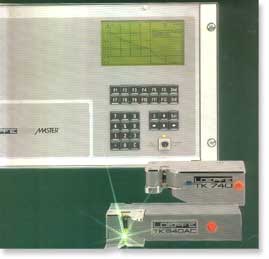 Quality

Quality Policy

Quality Policy of Sona Group shall be to spin and supply yarns of excellent quality to the total satisfaction of its customers.

This shall be achieved through continuous improvements in processes with the involvement of employees, at all levels of the organisation.

Main Features :
Intensive training to operators in work practices and involve them in activities concerning quality and growth.
To develop and establish documented quality system to translate and implement the quality policy in all activities of the organisation.
To develop and maintain mutually beneficial relationship with business associates to continuously improve our products.
To conduct our business in a manner that is socially acceptable and commands respect, social responsibility is shouldered by complying with the laws of the state. Conventions of the society and by maintaining a safe, clean and healthy environment.
To achieve and sustain reputation for quality.
Testing Equipments Used
Testing Done for Fibres
Fiber fineness Tester for Micronaire.
Shirley Trash Analyser for Trash content in material.
Uster fibrograph for length testing.
AFIS for Neps Study
Stelometer for Strength Testing
Moisture Tester for Moisture content Tester.
Electronic Balance
Yarn and Sliver - Preparatory process of yarn
Wrap Block
Wrap Reel
Compusorter
Lea Strength Tester
Uster Eveness Tester with spectrograph
Twist Tester
Appearance Board (ASTM)
Single Yarn Strength Tester (Uster Tenso Rapid)
Yarn Classimat Tester
In Process Testing
Roller Eccentricity Tester
Top roll Pressure Gauges
Shore Hardness Tester
Yarn Tension Meter
Tachometer
Procedures
Mixing
Natural Fibre
Fibre Properties
Span lengths
Uniformity ratio
Mic value
Trash %
Fibre strength
Synthetic Fibre and Regenerated Fibre
Length Uniformity
Denier
Spin Finish
Moisture Content
Blowroom
Cleaning Efficiency
Waste Percentage Extracted
Openness value of material
Neps/gms in each stage of material from mixing to lap
Amount of fibre rupture
Lap meter to meter C.V.
Carding
Cleaning Efficiency
Waste Percentage
Neps/gms in sliver
Card wrapping
Sliver U%
Drawing
Sliver U% (Finisher Drawing only)
Drawing wrapping
Drawing one yard CV%
Top roll pressure and cots trueness checking
Fibre rupture
Stop motion checking
Comber Preparatory
S/L & R/L
Within lap C.V%
Speeds, Settings and Wheels Checking
Comber
Comber Noils & Comber Wrapping
U%
Stop motion checking
Combing Efficiency
Simplex
Roving Stretch% and wrapping checking
U%
End Breakage Study
Top roll pressure checking
Bottom roll Eccentricity Checking
Frame Diagnostic Survey
Spinning
Frame wrapping
Framewise U% and yarn imperfection
Classimat fault (One set cops and one set cone)
TPI checking
Frame Diagnostic Survey
Top roll pressure checking
Bottom roll Eccentricity checking
Winding
Cops winding study
Knotter condition and splicing yarn appearance checking
Splicing strength
Cone weight and cone defect checking
Clearing Efficiency of clearer
Cone Rewinding
Cheese Winding and T.F.O.
Stop motion checking
TPI Checking
Breakage study
Diagnostic Survey
Open End Spinning
Count checking
Breakage study
Packing
Packed material weighment checking
U.V lamp checking
General Instrument
Lea tester, Single yarn tester, Stellometer, Fineness tester
Eveness tester, Twist tester
Electronic Balance