Mills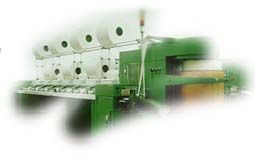 Sona Valliappa Group
Sree Rajarajeshwari Industries Pvt. Ltd.
Sona Rajendra Spinners Pvt. Ltd.
Sona Valliappa Group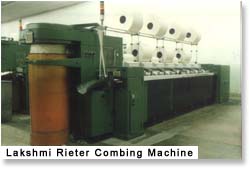 Can a textile mill be built without a single pillar in an area of 120 ft? Here's Sona Valliappa Group, Asia's first textile mill to be constructed without a pillar in the whole of 120 ft. From a small beginning of 12,500 spindles in 1966, it now houses 30,000 spindles and 1152 rotars. Producing 10 tons of yarn now is an everyday feat.
The Ringspinning division is a fully combed unit. In fact, Sona Valliappa Group is one of the few units producing re-cofil type combed open-end yarns in India. This unit is continuously being modernised and has already undergone 5 phases of modernisation.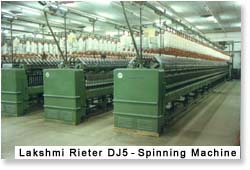 Material - 100% Cotton & Viscose & Their Blends
Count Pattern - From 14's to 26's Ne in Open End
Ringspinning - 24's to 120's Ne
Autoconed with metered length cones
Electronically Cleared and Usterised
SREE RAJARAJESHWARI INDUSTRIES PVT LTD.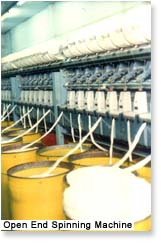 The coarse type of Open End Yarns found a home in Sree Rajarajeshwari Industries, when we established the manufacturing unit in 1991. We specialise in poly/cotton yarns, both single and plyed yarns for light and heavy canvas, sheeting and carpet. However, we also produce poly/viscose yarns for suiting.
Material - Poly/Cotton, Poly/Viscose & 100%
Count Pattern - Ne 6/1 to Ne 20/1
SONA SYNTHETICS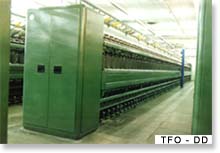 If you picture Southern India, temples, elephants, coconuts immediately fall into place. Well now, you can add India's first pure synthetic textile mill. Very much part of the landscape, since 1990. The entire project is equipped with Rieter type (Lakshmi Rieter) machinery. For both types of blending; intimate and normal. In-house TFO Savio and VJ Lakshmi machines can twist 70% of the yarns. While segregated sheds produce different materials. Top quality sewing thread and poly/cotton yarns of Filofil type i.e. for yarns dyed shirting.
Material - Poly/Cotton, Poly/Viscose, 100% Cotton, 100% Polyester, and 100% Viscose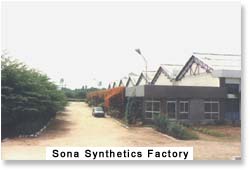 Count Pattern - Ne 24's to Ne 100's in Ringspun and Ne 6's to Ne 30's in Open End
SONA RAJENDRA SPINNERS PVT LTD.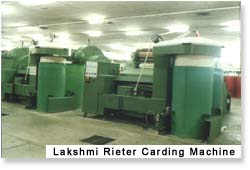 Roller-skating employees is the main ingredient of the efficiency levels at Sona Rajendra Spinners Pvt. Ltd. It was established solely for coarser count cotton, in the heart of the Textile triangle, at Salem. It has the latest amenities to produce yarn for knitting, weaving, sheeting, apparel yarns and tyre cord, both in single and plyed yarn.
Material/Count Pattern - Open End Ne 16's to 20's
Ringspinning Ne 12's to 60's
Karded and Combed