Profile

Leaders carve their own pathways.

This best describes Mr. C. Valliappa, the Managing Director of Sona Valliappa Group., Bangalore and Sona Synthetics, Bangalore.

He has been instrumental in spinning other success stories too. Like Sree Rajendra Mills Ltd., Spinwell Valliappa Private Ltd., Sree Nithyakalyani Textiles Ltd. and Sona Rajendra Spinners Pvt. Ltd., where Mr. C. Valliappa is The Director.

The Indian textile industry today has an icon to idolise. Mr. C. Valliappa has sown the seeds of prosperity in quite a few flourishing organisations. Valliappa Software Technological Park Pvt. Ltd., Sree Rajarajeswari Industries Pvt. Ltd., Karnataka Textile Mills Association and Employers Federation of Southern India.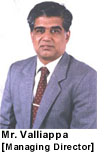 Noteworthy associations today also bear the mark of Mr. C. Valliappa. He has also been the brain behind quite a few. Greater Mysore Chambers of Industry - Bangalore, Federation of Karnataka Chamber of Commerce and Industry - Bangalore, Bangalore Management Association, The Southern India Mills Association - Coimbatore, The Indian Cotton Mills Federation - Bombay, The Synthetic and Rayon Textile Export Promotion Council, Bombay, The South India Textile Research Association, Coimbatore, The Karnataka State Industrial Investment and Development Corporation Ltd. - Bangalore.

Tomorrow is around the corner.



| Profile | Services | Opportunities | Commitments |

| Software | Textiles | Education | Plantation | Construction |
| Links | Sona Group | Contact | Site Map |