SONA COLLEGE OF TECHNOLOGY
(Built on the experience of an excellent past to offer a promising future)
SALEM - 636 005.
SOUTH INDIA

Thiagarajar Polytechnic Group Institution
SONA COLLEGE OF TECHNOLOGY, SALEM - 5

Thiagarajar Polytechnic Group Institution.
(Built on the experience of an excellent past to offer a promising future)
AICTE Approval Lr. No.F.730-50-292(E)/ET/96, dt.15.07.97 & G.O Ms.No.377, dt.23.07.97.
Affiliated to Periyar University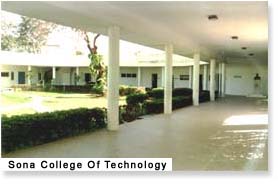 The SONA VALLIAPPA GROUP apart from itís industrial activities have educational instates. The chairman of the group MR.C.VALLIAPPA is the VICE-CHARMAN of the SONA COLLEGE OF TECKNOLOGY. Under his active involvement and management the college in a short time of two years has grown rappadely and with itís excellent cources,faculties, campus and fecelities, it is already one of the leading technology colleges. The emphesis given to the campus with its wide coridos and large enterences by one of Indiaís leading arceteckets-IM.KADRIE gives the instuation an international appearance.

It is the brain child of the team of experts which has set enviable records in offering Technical Education for over four decades.

Sona College of Technology, the sister concern of Thiagarajar Polytechnic, has been established by the "Chockalingam Trust" to meet the needs of society in the areas of technical education and economical growth.

The students have an added advantage of taking advanced / specialised courses through IGNOU study center and Canada India Institutional Co-operation Project at Thiagarajar Polytechnic.

The College has buildings spread over an area of 17.5 acres with a built up area of 1,10,000 sq.ft. It has been designed by the world famous architect I.M. Kadri.(x-sherrif of BOMBAY)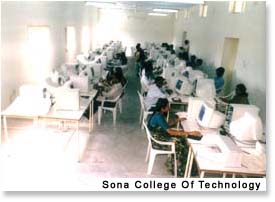 Spacious lecture halls, well equipped laboratories, library, workshops and computer centre cater to over 700 students, ably guided by well trained faculty in all frontier fields of Technology.

With all these back-ups Sona College of Technology is all set to be a promising elevator for a successful career to young students. The students of Sona College of Technology will find the learning experience quite enjoyable and lovable.
THE COLLEGE AT A GLANCE
S.No.
Item
Details
1
Full address of the College
Sona Nagar, Thiagarajar Polytechnic Road, Salem - 636 005.
2
Telephone Nos.
(0427) 443545 (Office)
(0427) 330395 (Secretary)
(0427) 444845 (Fax)
3
Location
1 Km. from Salem Junction &
1 Km. from Salem Central Bus Stand.
8
Courses offered
Engineering Courses

Mechanical Engineering
Electrical & Electronics Engineering
Computer Science & Engineering
Information Technology
Electronics & Communication Engineering

P.G.Degree Courses

Master Of Busniess Administration
Master Computer Application *

9
Excellent Hostel Facilities available for Boys and Girls
10
Extensive area for sports like Cricket, Football, Basket Ball, Volley Ball, Tennis, etc.
11
Computer Centre - 500 fully equipped most modern pcís
12
State-of-the art laboratories and workshops.
13
Well stacked computerised Library with over 5000 books and journals.
14
Canteen fecelities on Campus.
15
Banking fecelitie on campus.
16
Devoted Staff and Caring Management.
* Affiliation awaited
GOVERNING COUNCIL
1.
Chairman
:
Thiru. C. Sundaram
(Managing Trustee of Chockalingam Trust)
2.
Nominees of the Trust
:
Thiru. C. Valliappa
(Trustee of Chockalingam Trust)

Thiru. R. Kumar
(Professor Emeritus, I.I.Sc., Bangalore)

Dr. S. Subramanian
(Former Vice-Chancellor, Bharathiar University)

Thiru.A. Dhirajlal
(Secretary, Sona College of Technology)
3.
Nominee of All India Council for Technical Education
:
Director, Southern Regional Office, AICTE, Chennai.
4.
Nominee of the University
:
To be nominated.
5.
Nominee of the State Government
:
Director of Technical Education, Chennai.
6.
Principal (Member Secretary)
:
Prof. M. Ramaswami.
(Principal, Sona College of Technology)






SONA COLLEGE OF TECHNOLOGY, SALEM - 5
(Built on the experience of an excellent past to offer a promising future)





" Flowers bloom in flower
We have heard but not seen . . . "



So goes an ancient poem. Here in Salem there is a flower that has bloomed from another flower. Sona College of Technology is yet another golden flower that has bloomed from the flower "Thiagarajar Polytechnic" which has been spreading its fragrance in technical education for over forty years.



" From pigeon post to e-mail and Internet
From clay tablets to compact discs
From cave dwellings to sky scrapers
From horse drawn carriages to orbital planes
From barks and leaves to super fine fabrics ".



In all these and more, the power of technology for the progress of civilisation is self evident. "Chockalingam Trust" of Salem realising the importance of advanced technology education for the progress of the nation has embarked on this new venture.

The Location

Surrounded by hills on all sides and especially the Shervoroy hills(a hill resort) in the east, Sona College is situated in an Arcadian environment at the heart of the "Steel City" adjoining Thiagarajar Polytechnic, its elder sister. Sona College is housed in a sprawling campus of 17.5 acres with a built up area of 1,10,000 sq. feet.



" A thing of beauty is a joy for ever,
Its loveliness increases", said John Keats.



Keats will certainly approve that Sona College is indeed a thing of beauty.



One will find the campus charming,
The space very accommodating,
The view wide and varied,
And the pleasures, refined.



The Management

The illustrious founder Late. Sri. M.S. Chockalingam has set standards of high values for the college whose tireless work has resulted in the completion of the work in a record time.

Sona College of Technology aspires to fulfil the ' unshakable dream ' of its founder to become the pride and prestige of the city. And it is bound to be so with Sri. C. Sundaram, the Chairman and Sri. C. Valliappa, the Vice-Chairman, themselves leading Industrialists and the illustrious sons of the founder at the helm of affairs. Thiru. A. Dhirajlal, the well known academician steers the mission as he has already done in the case of Thiagarajar Polytechnic for many decades. Being the Secretary of the college he is ever present to tackle the problems and find solutions.

The Vision

Many great people are known by the Institutions in which they have grown. Institutions leave behind imprints on the sands of time. Sona College of Technology strives to achieve global identity through its innovative methods and strenuous efforts for the betterment of the students community. Guidance by expert faculty and opportunities for acquiring the state-of-the-art knowledge makes the people to face the fast changing world of Technology and Management.

The Instructional Facilities

The excellent facilities at the college include :
A sprawling campus, easy reach to any part yet far from the hurry burry of the city.
Bright and airy class rooms.
State-of-the-art laboratories.
Well-equipped workshops.
Well-stacked library.
Spacious sports facilities.
Homely hostel facilities.
Comfortable Computer Centre.
Education through Multimedia and Internet


Added to this, the students have further advantage of taking advanced / specialised courses through Indira Gandhi National Open University and Canada India Institutional Co-operation Project.

Courses

Our beginning though seemingly humble has gained enough momentum and it has reached phenomenal heights at present. Our college offers the following courses :
UNDER GRADUATE COURCES

Mechanical Engineering.
Computer Science and Engineering.
Electrical and Electronics Engineering.
Information Technology.
Electronics and Communication Engineering.

MASTERS DEGREE COURCES

Master of Business Administration.
Master of Computer Applications. *
Our Staff

The staff of Sona College are highly dedicated and motivated and find joy in their work. They stick to the policy of "It's better to wear out than to rust out" and greatly help in bringing to reality the dreams of the Management.
* Approval awaited

Our Students

Students are made to realise their potential for Self-Development so as to become a better person in terms of Physical, Emotional, Intellectual, Aesthetic and Moral characters. They also enhance their knowledge through the following opportunities :


Industrial Visits.
Project Works.
Class seminars.
Work Shops.
Paper Presentations.
Technical Seminars.
Intramural Activities.
Inter-Collegiate sports activities.
Sona College of Technology, in the coming year, aims to reach higher and higher peaks of glory. As a poet said, " A man's reach should exceed his grasp, or what is Heaven for ?".

LABORATORY EQUIPMENTS, COMPUTERS, LIBRARY FACILITIES.

Excellent facilities have been given in all the laboratories by furnishing them with modern equipments.


S.No.
Name of the laboratory
1
Thermal Engineering
2
Strength of Materials
3
Fluid Mechanics & Fluid Machinery
4
Mechanical Engineering - First year workshop - I
5
Lathe Shop
6
Instrumentation Laboratory
7
Dynamics Laboratory
8
Metallurgy Laboratory
9
Electrical Laboratory
10
Electronics and Communication
11
Computer Science and Engineering
12
Physics
13
Chemistry
14
Library


THE ACHIEVEMENTS MADE BY THE STUDENTS IN THE EXTRA - CURRICULAR ACTIVITIES.

The College provides facilities for participation in Football, Hockey, Tennis, Cricket, Basketball and Badminton. In addition, facilities to play Table Tennis, Carrom Board and Chess are provided in the recreation room.

In the field our students have proved their mettle.many prices and awards have been won by the students.



| back |

| Software | Textiles | Education | Plantation | Construction |
| Links | Sona Group | Contact | Site Map |