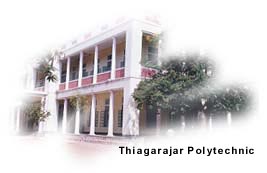 Education is the precursor to a bright future.

The Thiagarajar Polytechnic was set up in the year 1958, designed to offer technician-level diploma and post-diploma programs in engineering and technology education. Under the able and excellent guidance of Thiru. M. S. Chockalingam, the Chairman.

If you go through our programmes, diploma courses like Civil Engineering, Mechanical Engineering, Electrical and Electronics Engineering, Production Engineering, Textile Technology, Man Made Fibre Technology and Computer Technology are on offer. While our post-diploma programmes include Computer Applications and Knitting and Garment Technology. Further, we are constantly updating our courses. In keeping with the globalisation of our activities, we have replaced the traditional mode of educational instruction with a new and modern pattern called the Multi-Point Entry and Credit System. Where the key features are an absolutely practical approach, a highly flexible and need-based curriculum and re-designing of curriculums, to keep up with change and developments in engineering and technology.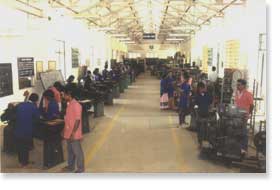 At Thiagarajar, service goes beyond the call of duty. The institution transcends the mere impart of knowledge, and believes in presenting its students with the best career opportunities, through a special placement section. First and foremost we provide information on career opportunities, through our `career corner'. Regular campus interviews are organised for reputed companies. Further our students are trained to enhance their performance in job interviews and sharpen their entrepreneurship skills through special workshops. All-round development is given impetus, at Thiagarajar.
Multi-faceted growth is an inherent feature of a dynamic institution ! For us, growth has manifested itself through our various extension services. For one, the Textile Testing and Consultancy Service offers testing and consultancy services for a wide range of textiles in the form of fibre, yarn or fabric. The Community Polytechnic Scheme encourages entrepreneurial projects in weaving, dyeing and printing, wind energy, irrigation and environmental protection. While the organising of counselling classes, training of students and conducting exams are managed by our Study Centre of Indira Gandhi National Open University. The Indian Society for Technical Education periodically organises lecture sessions and seminars periodically on a variety of topics related to technical education. Our techno-savy wings, the Institution of Engineers (India) and the Textile Association of India (TAI) explore and share new technologies and avenues of growth and modernisation.
Thiagarajar Polytechnic. Towards excellence in technical education.
| Sona College Of Technology |
| Software | Textiles | Education | Plantation | Construction |
| Links | Sona Group | Contact | Site Map |