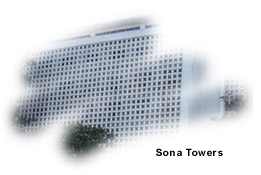 Commercial
Software in India is on the fast track to growth. Every 365 days, it gets at least 50% larger in size. In fact, in the next 150 days, exports are expected to cross the US $ 1 billion mark.
At the centre of this growth is the city of Bangalore. All major electronic and IT companies of the world have centres in Bangalore. Like Digital, IBM, Texas Instruments, HP and Motorola. Other software exporters are not to be left out. Technical competence available in Bangalore has improved. Making it "India's IT capital".
Bangalore has everything a Software Company needs except for commercial infrastructure. As a result, it has a lot of scope for improvement. To allay this need, "Valliappa Software Technology Park" (VSTP) was conceived. As a result today, Bangalore offers `instant start and instant uplink' facilities, much required by the software exporters.
VSTP
A software technology park – ready for occupation
Unique and only one of its kinds in Bangalore
Ideal for startup operations with instantaneous on-line facility
Strategically located in the heart of the city
VSNL earth station located in the same building
Sona Towers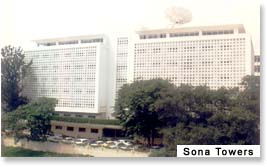 Area about 1.2 lakh sq.ft.
Multi-storied administrative complex
Situated in the heart of Bangalore
Home to top MNCs
Seventy per cent occupation by software companies
Architect, M/s. I.M. Kadri, Mumbai
Sona Palace
This project is under construction. At the famous Palace Highgrounds Area.
Multi-storied complex
With extensive software facilities
Also accept tailor-made projects for software companies, wherein we tailor the building size, finishes, facilities all according to individual clients.
Also available
Industrial/offices, at important places such as:
Mysore Road
Hosur Road
Near Software Teeb park etc.